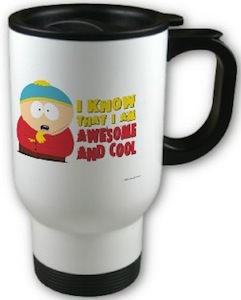 This stainless steel travel mug will be your new best friend. Just take it to you favorite coffee shop and let them fill it instead of a ugly paper cup.
And if you wonder why this mug will be your new best friend the that is simple.
This mug has Cartman from South Park on it and the text "I Know what I amd Awesome and Cool" and this picture and text are printed on both sides of the mug so that you and the people staring at you both know it.
Most people don't have South Park mug so if you are a true South Park fan then you can beat them to it.
Come check out this South Park Cartman Awesome And Cool Travel Mug.