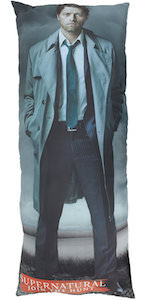 If you always wondered how it would be to cuddle with an angel then now you can make it happen.
This Supernatural body pillow shows Castiel the angel in trench coat on it and below Cas your find the Supernatural logo to.
The Cas body pillow is 16 x 42 inch and just looks stunning and would be a great addition to the bed of a true Supernatural fan.
Having a big Castiel pillow is a great way to decorate a couch to and is great to cuddle with when you watching an episode of Supernatural on TV.
You may also like: