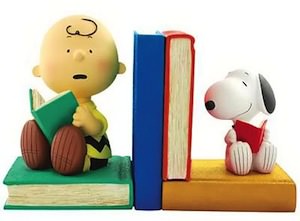 Books are fun but man they have a hard time standing up.
Luckily for us they invented bookends but most of them are boring.
But we found fun Peanuts bookends that shows Charlie Brown and Snoopy sitting on a book while reading and this is what will be holding up your books nice and easy.
These Peanuts bookends are 5.25 inch tall and have fun colors and amazing details.
So if you collect peanuts then come checkout these Charlie Brown And Snoopy Bookends.
You may also like: