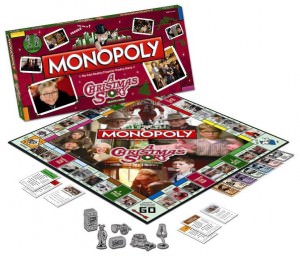 The classic 1983 movie A Christmas Story combined with everyone's favorite board game Monopoly is now here! A Christmas Story Monopoly in a collector's edition.
This edition of Monopoly has pictures of memorable movie scenes from A Christmas Story all over the board. You can buy mementos from the movie and sell, trade or keep them.
The money has pictures of characters in the movie, the Chance cards are replaced with Triple Dog Dare cards, and the Community Chest cards are now cards for A Major Award.
The pewter tokens are objects from the movie: the leg lamp, soap with teeth marks, Ralphie in his bunny suit, Ralphie's broken glasses, the Old Man's car and the fragile crate.
What a wonderful way to spend time with family and friends over the holidays and no one will shoot their eye out .
Have fun while you feel a bit nostalgic with this game A Christmas Story Collector's Edition Monopoly.