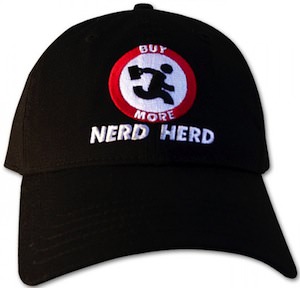 Chuck fans will love this cap.
So lets start with the back. This cap is adjustable in size and next to the adjustment on the back there you will find the Chuck logo.
And then now the front. On the front you see the Nerd Herd logo with the little black figure running with a suitcase and in the red rim around that it says "Buy More" and below it there it says "Nerd Herd".
Now that Chuck is over this hat will be more special with the day so don't forget to get one for yourself or a special friend.
Come and get your own Chuck Nerd Herd Hat.