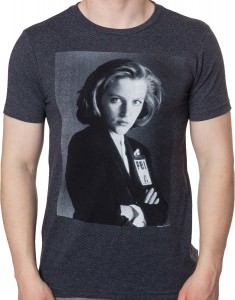 Relive the memories of The X-Files television show. What better way then to showcase this Agent Scully t-shirt.
There is one and only Agent Scully and this is her time to shine. This black and white graphic is spectacular! Scully is in a business suit and is showcasing her FBI badge. She is standing sideways, looking at you with her arms crossed and has a serious expression.
This t-shirt comes in sizes Small to 3XL and is made from a cotton blend that is sure to make you feel oh so good. It comes in a charcoal grey color and is a men's fit. Don't worry ladies, you can still wear this great t-shirt too.
Don't cross your arms in this Cross Armed Scully X-Files T-Shirt.