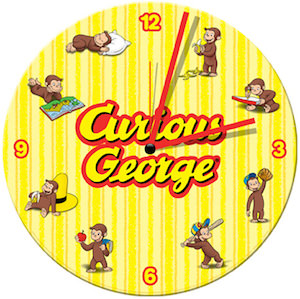 What time is it?
It's Curious George time and this wall clock proves that.
This 13 1/2 inch round wall clock is yellow and has in the middle the Curious George logo and around it on many number spots you see that curious monkey George. He eats fruits, reads, does sports and even sleeps on the fun pictures you find on this wall clock.
And this wooden Curious George clock runs on 1 AA battery so no wires are needed and that means you can hang this fun clock almost anywhere.
Kids are gone love this clock and maybe that makes them more willing to learn to read the clock.
Come and surprise your kid with this Curious George Wall Clock.