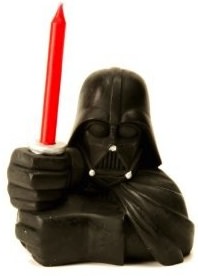 There he is the candle of all candles the Darth Vader birthday candle.
Star Wars fans will be so happy when you give them a cake with a Darth Vader candle on top.
This candle shows a bust of Darth Vader of course in black and then he has a red candle in his hands almost like a lightsaber.
If you want to suprise a Star Wars fan then just make sure the cake has this Darth Vader Birthday Candle.