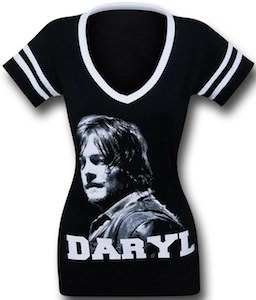 The Walking Dead fans of course want to be a little bit athletic to be ready when the walkers come and that is why this women's shirt is an athletic style shirt.
The t-shirt is black and has white trip around the neck and two white stripes on the sleeves but you as Walking Dead fan of course only really care about the picture on the shirt and that is one of Daryl looking at you and below that his name "Daryl".
Now you can be wearing a shirt that has Daryl on it and you can show him the world.
Come check out this The Walking Dead Women's Daryl Shirt.
You may also like: