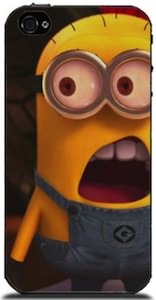 Your iPhone 4S or iPhone 4 are pretty cool but with this case it will be even more amazing.
As you can see on the picture above this iPhone case has a huge picture of a Minion on it and he is suprised about you.
So now you can have a case that not only looks great but also proctect your phone from harm.
Despicable Me was so amazing that people are still talking about it and people want things from the movie and this case would be the perfect item.
Come have a closer look at all the pictures of this Despicable Me Minion iPhone 4S Case.