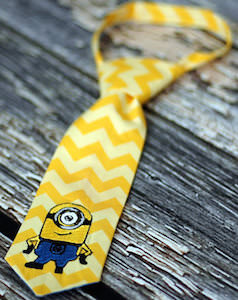 Kids are not really fond of wearing neckties I still remember how much I didn't want to wear them when I was a kid.
But now there is a fun necktie they may want to try.
This is a yellow necktie with fun stripes and a Minion. And as Minions and the Despicable Me movies are cool they may even like to wear the tie.
The Minion necktie comes in a range of kids sizes so that kids from toddler to up to around 8 can enjoy a Minion necktie.
And this Despicable Me necktie is not one they (or you) have to tie it just easily connects with velcro.
Make your kid happy with a Despicable Me Minion Necktie.
You may also like: