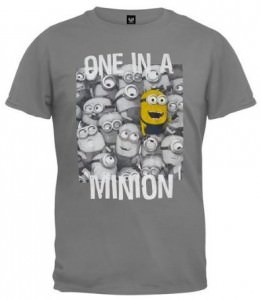 With so many millions of those little yellow Minions each minion is still unique, you could say each is one in a million.
This is a great t-shirt that features a group of Minions, two eyed goggled ones, one eyed goggled ones, tall ones and short ones all done in black and white except for one minion who is in bright vibrant colors, the yellow Minion really sticks out and has the saying "One In A Minion".
Available in a huge selection of sizes that range from Small to 2XL and is made to be super durable and very comfortable.
Get the Despicable Me One In A Minion T-Shirt.