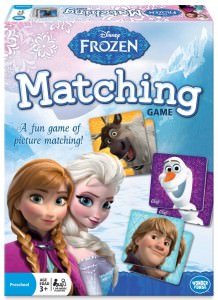 Are you looking for a gift from the Disney movie Frozen that is a bit different?
Then this children's board game will be perfect. Children know all the characters from the movie, so they will have a lot of fun finding matching cards.
This Disney Frozen game is a classic matching game that helps to develop memory, teach matching skills, learn the concepts of "same" and "different" as well as helping kids learn to play together and take turns.
Kids will have so much fun seeing their favorite Frozen characters like Anna, Elsa, Sven, Olaf, Kristof and many more, they won't even realize that they are learning. This Frozen game comes with 72 colorful tiles and instructions, for ages 3 and up.
Be sure to get this Disney Frozen Matching and Memory Game.