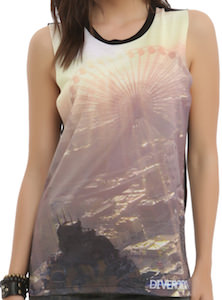 Divergent fans of course know what Tris does with ferris wheels and now you can have a t-shirt that shows the city that Tris lives in and in the background the big old ferris wheel.
On this t-shirt you can really see how little is left of the old city Chicago where the Divergent story unfolds.
But lucky for you there now is a top that shows it all.
This Divergent top is black on the back and on the front you just have the city with the ferris wheel in the background. And in the lower corner you can find the word "Divergent".
You can get this Divergent t-shirt in sizes X-Small –  3XL and all are great to show you love of the Divergent stories.
Come and have a closer look at this Divergent Ferris Wheel Women's T-Shirt.