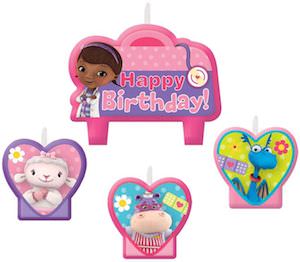 A Doc McStuffins birthday party of course need a special birthday cake and on that cake you need fun candles.
Luckily we found these special Doc McStuffins birthday candles.
These candles come in a set of 4 to make the perfect cake.
There is one big candle with Doc McStuffins on it and the words "Happy Birthday" and then there is 3 heart shaped candles with on each one of the Doc's friends there is one for Lambie, Stuffy and Hallie.
Now the Doc McStuffins themed birthday party can be a success as the candles on the cake of course need to be perfect.
Come now and order your Doc McStuffins Birthday Candle Set.