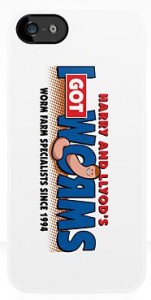 Harry and Lloyd want to find their place in this crazy world and they are saving their money to open up their worm farm store. What better name than Harry and Lloyd's I Got Worms? So funny!
This phone case is very colorful and has a unique company logo for Lloyd and Harry. It also has the phrase, "Worm Farm Specialists since 1994". What a great case inspired by the Dumb and Dumber movie.
The case is available for the following Apple devices;
iPhone 5s
iPhone 5
iPhone 4s
iPhone 4
iPhone 3Gs
iPhone 3G
iPod Touch 4G
You can also check out the cases for the Samsung Galaxy S3, S4 and S5 too.
You are sure to get compliments on your Dumb and Dumber Worms iPhone / Samsung Case.