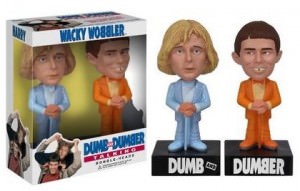 "That's it! I've had it with this dump. We got no food. We got no jobs. Our pets' head are falling off!" Oh Lloyd, life is tough, but what does Harry have to say about it? "You know Lloyd, just when I think you couldn't possibly be any dumber, you go and do something like this and totally redeem yourself!"  What a pair!
Created by Funko, the pair are dressed in their blue and orange tuxedo's that they wore to the Aspen Snow Owl benefit.
Each of the characters say 5 different quotes and stand 6″ tall. The talking is initiated by a simple bobble of the head.
Add to your collection today this Dumb and Dumber Talking Bobblehead Set.