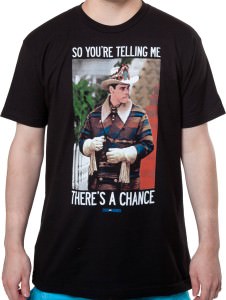 Lloyd Christmas is always up to his not so smart antics in Dumb and Dumber. This movie is still as funny today as when it came out in 1994. Relive the movie with a great picture of Jim Carrey as Lloyd Christmas, the limo driver and a great one liner from the movie.
This black t-shirt has a picture of Lloyd in his amazing Colorado outfit with the one liner "So You're Telling Me There's A Chance". Classic!
It is a men's, 100% cotton t-shirt that comes in sizes S to 2XL. Even Harry Dunn would be jealous of this t-shirt.
Be one in a million in your Dumb and Dumber So You Think T-Shirt.