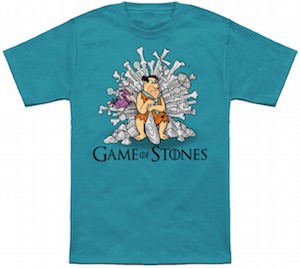 When Fred Flintstones was around there where only stones and that is why they made this special t-shirt to make some fun with Game of Thrones.
On this t-shirt yo can see Fred sitting on a throne but not one made from metal swords but one made from weaponry used in the stone ages and below this nice throne it says "Game Of Stones".
You can get this Flintstones t-shirt in sizes Small – 6XL in a men and women's version and there is even a hoodie if you want one.
So if you like Fred Flintstone and Game of Thrones then you have to check out this The Flintstones Game Of Stones T-Shirt.