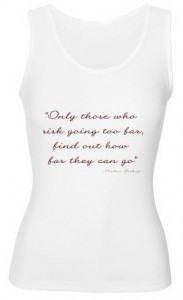 Fringe is an awsome crime investigation televsion drama, very popular so you will definetly get some excitement over this tank top.
A Quote from Walter Bishop, a scientific researcher on the show Fringe once said this amazing and true quote "Only those who risk going too far, find out how far they can go", this is the quote you will find printed on the front of this tank top in fancy writting.
This Fringe Quote tank top is made of 100% combed ring spun cotton and is fitted for comfort and style and comes in many different sizes.
Find your Fringe Quote Women's Tank Top.