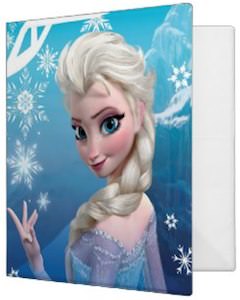 All girls dream of being a queen or a princess at some point in there life.
Do you like scrap booking, organizing your school subjects or even making recipe books. Well, this cute snow Queen Elsa binder would be perfect to use for your homework or making a photo album.
This Frozen Elsa three ring binder features a picture of the beautiful snow queen Elsa with her long blond braided hair wearing a blue dress with a blue background and snowflakes on both front and back of the binder. Also there is snowflakes going down the side of the binder.
You can get this snow Queen Elsa binder in three different sizes 1″ holds up too 175 pages, 1.5″ holds 375 page, 2″ holds 500 pages and all pages are a slandered size of 8.5″ x 11″. And this is a Avery binder so you can expect the quality you love with the picture you love even more.
Start having fun with your scrap booking now and put it in this cute Frozen Snow Queen Elsa Binder.