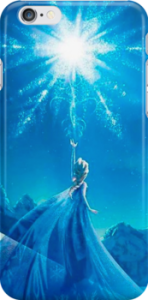 On this iPhone and Samsung Galaxy case you will find one of the classic images from the great Disney animated movie Frozen, find Elsa the Snow Queen over looking the world as she points her wand up and a large snowflake burst appears, and of course it is all in frosty blue colors.
Each case is made to precisely fit the specific device leaving all  ports and buttons open for use, the devices you can get this Elsa case for are as follows:
Samsung Galaxy S3
Samsung Galaxy S4
Samsung Galaxy S5
iPhone 4
iPhone 4S
iPhone 5
iPhone 5s
iPhone 5c
iPhone 6
iPhone 6 Plus
Let the Elsa the Snow Queen put an icy protective coating on your precious device.
Protect with the fun Frozen Elsa iPhone And Galaxy Case.