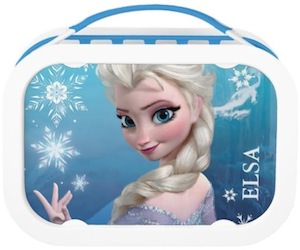 This is the lunch box kids and adults love.
Kids love it because it has Elsa on it from the movie Frozen and as you can see above this lunch box says "ELSA" on it but at no extra cost it could have your name.
And inside this lunch box you can find a sandwich box and two smaller boxes and even and ice pack.
And parents will love the part that this whole lunch box set is dishwasher safe (excluding face plates) and it's made from BPA free plastic.
And this lunch box can have blue, green, grey, pink, orange or purple sides and handle.
Taking lunch to work or school was never more fun then with this Disney Frozen Elsa Lunch Box.