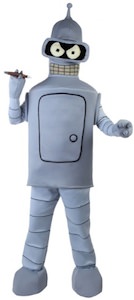 Are you excited to pick out the perfect Halloween costume to go out on Halloween night?
If you want to be the coolest robot at the party then this Bender costume will be perfect for you.
This adult Futurama Bender costume is designed to look just like Bender the robot from the television series Futurama. The costume includes a polyfoam tunic top with a plastic hoop in the shoulders, a foam bender headpiece with a mesh screen for vision at the mouth, and elastic waist pants with foam boot covers shaped like benders feet.
You will find yourself disliking humans, smoking cigars, drinking and having fun at the party while wearing the Futurama Bender Robot Costume.