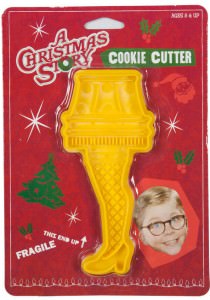 You don't need to bake those same boring cookies this holiday season. No more wreaths, bells, or snowflakes.
Now you can wow your friends and family with these unique leg lamp shaped cookies inspired from the "major award" that Ralphie's dad won in classic holiday movie A Christmas Story.
This yellow plastic leg lamp cookie cutter will make as many cookies as you want and you can decorate them in the usual way showing fishnet stockings and the yellow and green lampshade or you can trim them in your own unique way.
Ralphie would love the cookies you make with this cookie cutter almost as much as his Red Ryder air rifle.
Make some funny cookies and serve them in your pink bunny PJ's with this A Christmas Story Leg Lamp Cookie Cutter.