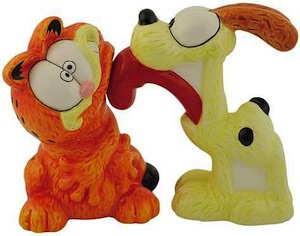 Salt and Pepper shakers are most times kind of boring but there is no reason to.
Look at this Garfield Salt and pepper shaker witch is much more fun then a boring glass bottle.
Now your can store you salt and pepper in Garfield and his dog "friend" Odie. And when you place them next to each other it looks like a fun scene from the Garfield cartoon.
You can see Odie lick Garfield who then looks very suprised about that.
Get some spice in your life with this Garfield And Odie Salt & Pepper Shaker Set.