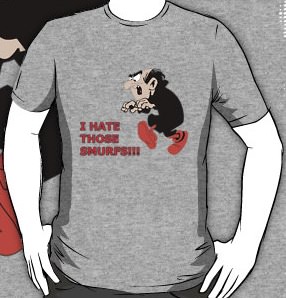 For as long as I can remember Gargamel is trying to catch those fun loving blue creatures called The Smurfs and till now he was not really lucky.
And now Gargamel is getting a bit fed up with them and he started to wear this t-shirt that shows a picture of Gargamel ready to catch those Smurfs and the text "I hate those Smurfs!!!".
If you want a shirt just like it then you are in luck as it is available to men and women who don't seem to be fond of The Smurfs (or maybe they are).
You can get this t-shirt in all kind of styles for men and women and it even comes in 21 fun colors just incase you don't like grey.
Come and have a look at all your options with this The Smurfs Gargamel I Hate Those Smurfs T-Shirt.
You may also like: