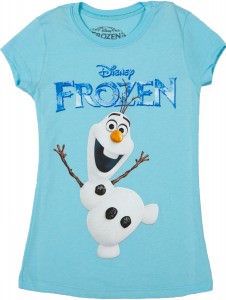 Every little princess would love to wear this Olaf t-shirt and pretend that she is in Arendelle with Elsa and her sister Anna.
This light blue screen-printed shirt has the picture of Olaf the cute little snowman from the Disney movie Frozen.
Olaf looks like he is dancing and has a big toothy grin on his face and the words "Disney Frizeb" above his head.
This Olaf Frozen t–shirt comes in girl's sizes 6 – 16 and is made of a very soft 50 % cot ton, 50% polyester blend.
This is one snowman that will not melt in the warm weather, so go ahead and get this Girls Olaf Frozen T-shirt.