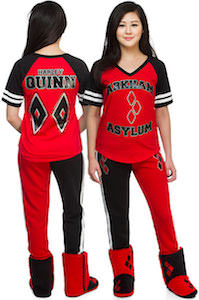 If you feel a bit like a Batman villain then this women's sleepset could be perfect for you.
The pajama set includes long pants and shirt and are great for sleeping and lounging.
The shirt is red with black sleeves that have white stripes on the front of the shirt it says "Arkham Asylum" and on the back it says "Harley Quinn 00".
The pajama pants have one red and a black lego with a white stripe on the sides and diamonds on the top.
You can get this women's Harley Quinn pajama set in sizes Small – 3XL and they are a great way to be comfortable all weekend long.
You may also like: