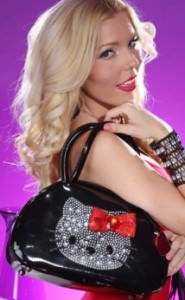 The always stylish and cool Hello Kitty is here to help you carry your personal belongins.
This is a really nice and shiny handbag made from faux leather it is durable and easy care, with a huge Hello Kitty made up of rhinestones featuring a red bow that sparkles with a sequin bling.
Some other cool features are the double handle and a zipper closure, with a fully lined interior and a zippered inside pocket to stow away more precious items, this is the perect handbag to accessorize any outfit with.
Get your Hello Kitty Black Rhinestone Handbag.