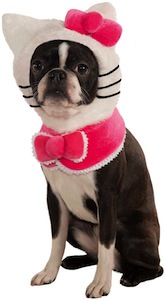 Dogs and cats are most times no friends but what about dressing your dog up as Hello Kitty this Halloween?
This Halloween costume will give you dog a nice mask with big white ears with of course a bow and even a bow around it's neck.
This dog costume will make any dog look like a cute kitten.
And this Hello Kitty costume comes in a range of sizes so that even your dog can look like Hello Kitty this Halloween.
Don't hesitate just come and check out this fun Hello Kitty Dog Costume.