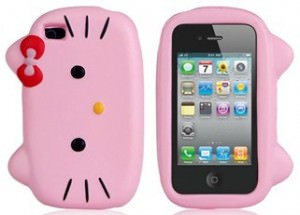 Protect your Precious iPhone 4 with a super cute and stylish Hello Kitty case.
This Hello Kitty case features the face of Hello Kitty in a nice soft pink with a red bow and adorable yellow button nose and whiskers aswell as cute little ears sticking out.
Made from soft rubbery material for a non-slip case and a very durable case that will help protect your iPhone 4 from scratches and bumps.
Get your Hello Kitty Head iPhone 4 Case.