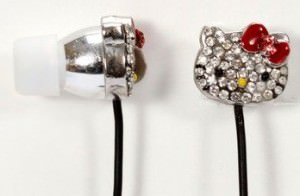 Listening to music, playing on a mobile device just got a lot more stylish.
On these earbuds you will see the lovable head of Hello Kitty done with white crystal rhinestones making up the face, black rhiestones for eyes and find a beautiful red crystal rhinestone bow maiking this not just headphones but a great addition to your jewelry collection.
The Hello Kitty headphones are an earbud style made from shiny smooth metal with a nice soft silicone for comfort, they are compatible with any standard audio jack and some of the many devices are the Apple iPhone, iPod and iPad, blackbery, Samsung Galaxy, Nintendo DS and so much more.
Turn up your bling with the Hello Kitty Crystal Earbuds.