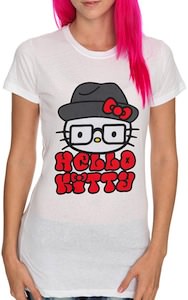 They call this Hello Kitty Hip Hop style but on this white t-shirt you can see the face of Hello Kitty wearing a grey fedora hat with a nice red bow and she even wears glasses.
And below the picture of Hello Kitty it say in red "Hello Kitty" in a fun font.
This Hello Kitty t-shirt is made from 100% cotton and comes in a wide selection of junior fit sizes from XS to XXL.
And sure the shirt is only availible in white but that means that the picture of our favorite Kitty really stands out nicely.
So Hello Kitty fans come and check out this Hello Kitty Hip Hop T-Shirt.