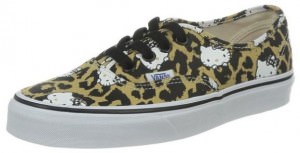 Van's a trusted and classic design for a skate shoe or an everyday shoe, combine the classic authentic Van's with the ever popular feline friend Hello Kitty and you have an out of this world combo to wear on your feet.
This shoe features a leopard print all over with multiple head shots of Hello Kitty wearing her trademark bow and just like in Van's fashion the rubber sole is white.
Sizes range from a 3.5 to an 6.5 US Men and a 5 to a 8 US Women both men and women sizes go up in size by 0.5 half sizes.
Get into these stylish Hello Kitty Leopard Print Vans Unisex Sneakers.