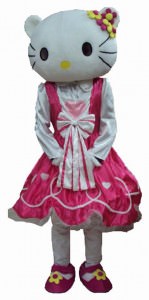 Cheer and support your team or just dress up as the cartoon character Hello Kitty!
Featured here is a mascot costume of the loveable kitty Hello Kitty with a pink frilly dress, pink shoes and a large white plush head with a cluster of daisy's for a bow.
Included in this Hello Kitty deluxe costume is the head, body suit, gloves and shoes.
The Hello Kitty mascot costume is available in a wide range of sizes from XS to 2XL so kids to adults can enjoy being everyones favorite kitty, the head can be dry cleaned and the rest of the suit can be washed in a machine.
Get into the Hello Kitty Mascot Costume.