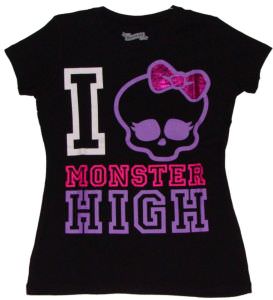 There is no better way to support your favorite school than this.
This is a t-shirt that features the very poular series Monster High, on the front you will find "I Love Monster High", with pink and purple letters, very stylish. To represent the "Love" it is not a heart instead you will see a huge Monster High cute skull with a pink bow, the official Monster High logo.
A very durable and comfortable t-shirt that is made from 100% cotton and comes in girls sizes 6-16.
Take a closer look at the Monster High I Love Monster High T-shirt.