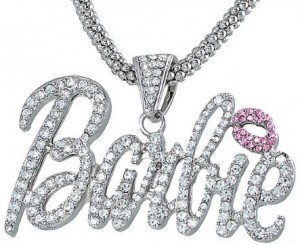 Once again Barbie has something that is elegant, stylish and stands out, so much so that this is exaclty what you have seen the famous Nicki Minaj sporting for many different occasions.
This is a necklace that features a beautiful Barbie pendant charm that is glittered to the nine's. You will see the Barbie written in a cool way and filled with shimering white crystals, also the "i" being dotted with a set of pink crystal lips.
Made to be very sturdy this is not only stylish but very durable on a 17 inch chain and the pendant measures 3.7×2.25 Inches and fastened on with a lobster claw clasp, so throw this on for all occasions and show off your Barbie love.
Get your Nicki Minaj Barbie Crystal Pendant Charm Necklace.