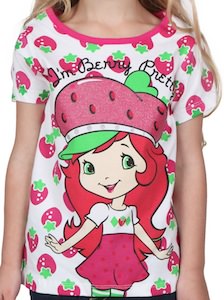 We all loved Strawberry Shortcake when we were a kid and now our children loving her still.
Strawberry Shortcake has been around for many years on television and all different kinds of product in stores. Your little toddler will love to have her own berry cool t-shirt of her own.
This adorable Strawberry Shortcake t-shirt features a picture of Strawberry Shortcake herself with her long red hair and surrounded in multiple strawberries all over the t-shirt on the front and back with the text above her " I'm a berry pretty".
It is made from 100% cotton and is available in toddler sizes 2T, 3T and 4T.
Your little one will be berry cool when she is wearing this cute I'm A Berry Pretty Girl Strawberry Shortcake T-Shirt.