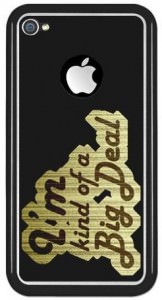 Will Ferrell from the hit comedy movie Anchorman plays an egotistical anchorman Ron Burgundy, he is kind of high on himself.
This is an iPhone 4/4S case that features one of Ron Burgundy's classic lines "I'm Kind of a Big Deal" on the front, a very memorable line and sure to grab some laughs and attention.
Not only is this fun but this iphone case will protect your iPhone 4 and iPhone 4S from dents and scratches aswell as being perfectly contoured to fit the iPhone 4 and 4S leaving all ports and buttons accessible.
With molded-silicone siding that is also a nice soft non-slip grip and availabe in 2 different outside colors Black and White.
Get your special Anchorman I'm Kind Of A Big Deal iPhone Case.