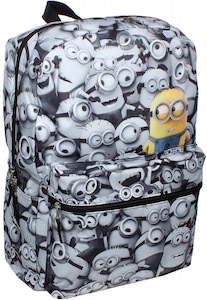 Minions are fun and crazy and yellow but on this backpack you can find many Minions that are black and white and that makes it cool specially because one still is the normal yellow color.
This backpack is perfect for school, work or other activities. It measures 18 x 13 x 5 inch and has one big compartment and one small one and there is even a smaller pocket on the backstop.
Now going back to school will be way more fun because this Minion backpack will make it fun with those crazy Minions all over it you can't stop smiling and laughing.