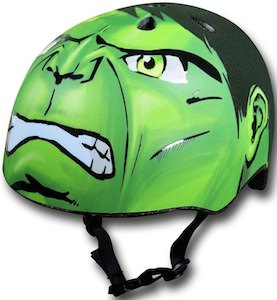 Is your kids always dreaming of there favorite superhero?
Well, if it is they will love to wear this awesome Incredible Hulk helmet when they go out for a ride on there bike.
This cool Hulk bicycle helmet is in the shape of the Incredible Hulks head with a mean look on his face. On the back of the helmet features a small full size picture of him with The Incredible Hulk written under it.
The Hulk helmet is ATSM/CPSC safety certified and measures at 50-54 cm suitable for kids of ages 5 and up with a black strap that clips under the chin.
Protect your child's head with this cool Incredible Hulk Bicycle Helmet.