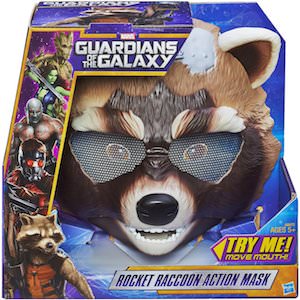 Want to be Rocket Raccoon from the Guardians of the Galaxy?
With this face mask you can become just like Rocket Raccoon. The mask is has amazing details and is a action mask. You can for instance make the ears of Rocket move when you are wearing the mask just by moving your jaw.
This mask is fun for playing around or as part of a Halloween costume.
Now kids can become part of the Guardians of the Galaxy by simply wearing a fun mask like this.
Raccoons become cool again because now they are part of the Marvel universe.
Make you kid happy with this Guardians Of the Galaxy Rocket Raccoon Mask.