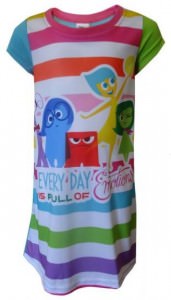 With everyday emotions the creative works at Disney Pixar have come up with yet another great animation that puts our emotions into character.
On this nightgown you will see the five mixed emotion characters from the hit animated Disney Pixar movie Inside Out. Find Fear, Sadness, Anger, Joy and Disgust each their own color along with the saying underneath them of "Every Day Is Full Of Emotions", the rest of the nightgown is pin striped vertically with the color of the five emotions purple, blue, red, yellow and green.
The Inside Out nightgown is available in a wide variety of girls sizes that range from 4, 6, 8, and 10 and it is comfy and durable to last a long time.
Have a closer look at the Disney Inside Out Emotions Girls Nightgown.