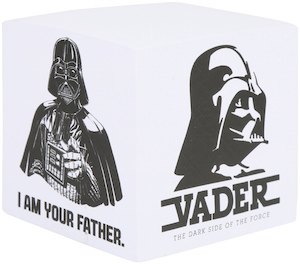 This is a Star Wars notepad and not a ring bound kind but a memo cube that you may remember from the good old days.
Just a stack of paper in a square with cool images on the side.
This Star Wars memo cube has Darth Vader, Stormtrooper and the scene of the Millennium Falcon on it.
This memo cube has 700 sheets of paper on it and that gives you lots of room for lots of notes.
Now leaving a message will be easy because there is always a piece of paper around ready for you to write on.