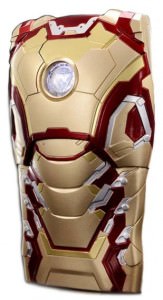 If you are looking for the best protection for your precious iPhone then trust a true Marvel superhero like Iron Man.
This 3D case features the Iron Man suit that is named Mark XLII from the awesome Iron Man 3 movie. The case looks just like the Mark 42 armour which is mostly gold with red outlined features complete with the chest light.
Made to specifically fit the Apple iPhone 5 with a unique camera protection, just slide the gold Iron Man armour to the side and the camera lens is exposed for use. The chest light works as a call coming in LED flashing light by easily syncing in your settings.
Try out the Marvel Comics Iron Man Gold Mark 42 iPhone 5 Case.