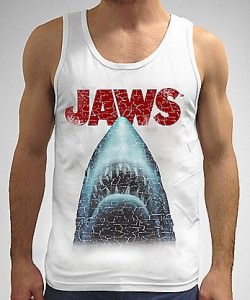 On the front of this tank top you will see a distressed image that has one of the famous movie posters that was released with the awesome movie Jaws. It has the shark Jaws with it's mouth open and head straight up along with a red block letter "JAWS" printed above.
Just like a great white shark this tank top will be very durable as it is made from 100% cotton, at the same time it will be super comfortable to wear and have a soft feel.
It is available in a wide variety of sizes that range from Small to 2XL and is perfect for shark week, the beach, pool or any occasion.
Get a look at the Jaws Classic Movie Poster Tank Top.