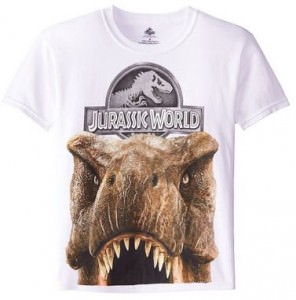 Looking for a new t-shirt for those ruff and tumble boys in your household? Maybe they need it for their athletic activities, school or just for around the house. They are going to love the one with the dinosaur on the front.
This white t-shirt is so great! It features a grey Jurassic World logo across the chest. Under the logo is a Tyrannosaurus Rex smiling for his picture. Maybe it is even a selfie.
This t-shirt comes in many sizes, which will be perfect enough for those growing boys. It is 100% cotton and is an officially licensed product, so you know it will be a big hit.
Wear out that Jurassic World T-Rex Smile Kids T-Shirt.