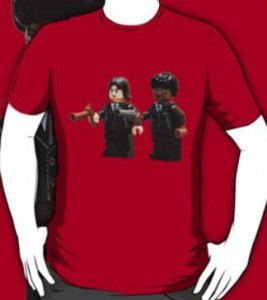 On the front of this t-shirt you will see two of the main characters Vincent Vega (John Travolta) and Jules Winnfield (Samuel L. Jackson) from the awesome Quentin Tarantino movie Pulp Fiction, the two characters are in a classic still image from the movie where they are standing side by side holding up guns.
The really cool part is these two hitmen are LEGO minifigures which pretty much makes two great characters even better.
Available in a huge selection of 18 different colors and a wide variety of sizes that range from S to 3XL, your LEGO Pulp Fiction t-shirt is made from 100% cotton which will give you a very durable and super comfortable shirt.
Also check out the many different styles of shirts, hoodies, women's fitted and more to get this print on.
Get a closer look at this LEGO Pulp Fiction T-Shirt.