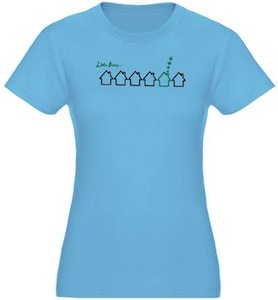 If you watched the TV series Weeds then you know the title song Little boxes
 about how all the houses and how people act and do are all the same.
And now they made fun t-shirt about that showing a row of little box houses but one is green and pot seem to be coming out of the chimney…… and on top of the fist two houses it says "little boxes".
A great t-shirt with so many insides from the TV series. And this women's t-shirt comes in different colors and styles to fit your needs.
So if you are a Weeds fan then just come get this Weeds Little Boxes T-Shirt.